Teme is an open access peer-reviewed international journal published by University of Niš (Republic of Serbia). Teme is an Open Access Journal in accordance with the Berlin Declaration. All articles can be downloaded free of charge for personal, educational and scientific purposes (Creative Commons licence CC BY-NC-ND).
In this journal are published high quality and refereed papers four times per year. Papers are reporting original papers. Papers for publication must provide originality, relevance and to have credibility. Papers submitted for publication must be written in English and Serbian. 
The journal publishes scientific papers in social sciences. Contributions cover either theoretical or empirical investigations of relevant topics. In each issue, the papers are organized into the thematic section, and the section titled 'Panorama'. In addition to original empirical and theoretical research papers and state-of-the-art review papers, the journal also publishes, in a separate section of each issue, thematic discussions, polemical discussions, important publication reviews, and papers dealing with applied aspects of the relevant disciplines.
The journal Teme is indexed in: Index Copernicus, CEEOL, EBSCO, SCIndex, DOAJ .

Print ISSN: 0353-7919
Online ISSN: 1820-7804
Editor-in-Chief: Suzana Đukić
Co-editor: Jordana Marković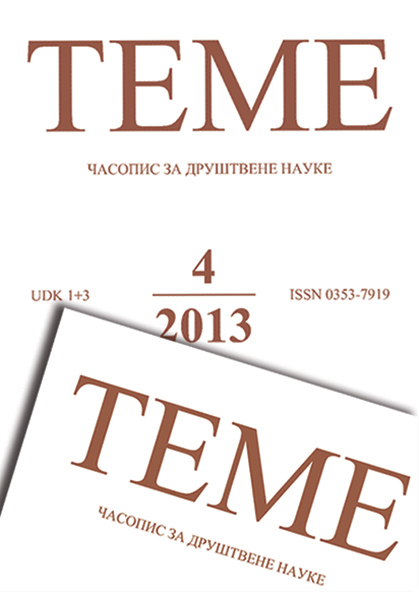 The
ONLINE FIRST
 section of
TEME
 the papers accepted for publication and but not yet assigned to an issue.
Announcements
Announcement of Vol. XLIII, No 4, 2019

SECURITY CHALLENGES AND THREATS IN A MODERN ENVIRONMENT

Paper submission deadline:  October 15th 2019

For technical details and editorial requirements on preparing the paper for publication, please refer to Author Guidelines, available at: http://teme2.junis.ni.ac.rs/files/journals/1/downloads/instrukcije_instructions.pdf.

It is necessary to indicate that it is paper for the thematic issue of scientific journal Teme No. 4, 2019.

Posted: 2019-07-05
More...
Vol. XLIII, No 1, 2019
Table of Contents
| | | |
| --- | --- | --- |
| | Milica Gligorović, Nataša Buha, Vesna Vučinić | 001-017 |
| | | |
| --- | --- | --- |
| | Svetlana Buišić, Dragan Cvejić, Tamara Pejović | 019-031 |
| | | |
| --- | --- | --- |
| | Биљана Мишић Илић, Љиљана Михајловић | 033-052 |
| | | |
| --- | --- | --- |
| | Jovana Jovan Milutinović | 053-068 |
| | | |
| --- | --- | --- |
| | Jagoda P. Topalov, Biljana B. Radić-Bojanić | 069-089 |
| | | |
| --- | --- | --- |
| | Biljana Jovan Stojanović, Predrag Živković, Dušan Ristanović | 091-107 |
| | | |
| --- | --- | --- |
| | Дејан Вучетић, Зорица Вукашиновић Радојчић, Ивана Крстић Мастриџеловић | 109-132 |
| | | |
| --- | --- | --- |
| | Aleksandra Djuric-Zdravkovic, Mirjana Japundza-Milisavljevic, Biljana Milanovic-Dobrota | 133-153 |
| | | |
| --- | --- | --- |
| | Marija Džunić, Nataša Golubović | 155-173 |
| | | |
| --- | --- | --- |
| | Саша Дубљанин, Душка Михајловић, Вера Радовић | 175-190 |
| | | |
| --- | --- | --- |
| | Biljana Pavlović, Dragana Cicović Sarajlić, Slobodan Kodela | 191-207 |
| | | |
| --- | --- | --- |
| | Jelena D. Matijašević-Obradović, Božidar Banović, Ivan Joksić | 209-222 |
| | | |
| --- | --- | --- |
| | Aleksandar Bodrožić | 225-240 |
| | | |
| --- | --- | --- |
| | Весна Јањић, Мирјана Тодоровић, Јасмина Богићевић | 241-256 |
| | | |
| --- | --- | --- |
| | Tatjana Bošković, Branka Maksimović | 257-274 |
| | | |
| --- | --- | --- |
| | Aleksandra Kostić | 275-291 |