Teme is an open access peer-reviewed international journal published by University of Niš (Republic of Serbia). Teme is an Open Access Journal in accordance with the Berlin Declaration. All articles can be downloaded free of charge for personal, educational and scientific purposes (Creative Commons licence CC BY-NC-ND).
In this journal are published high quality and refereed papers four times per year. Papers are reporting original papers. Papers for publication must provide originality, relevance and to have credibility.
Papers submitted for publication must be written in English. If the authors wish to increase the visibility of their papers, they are supposed to submit Serbian version of the article as well (as Supplementary file - Word format, using the Cyrillic alphabet).
The journal publishes scientific papers in social sciences. Contributions cover either theoretical or empirical investigations of relevant topics. In each issue, the papers are organized into the thematic section, and the section titled 'Panorama'. In addition to original empirical and theoretical research papers and state-of-the-art review papers, the journal also publishes, in a separate section of each issue, thematic discussions, polemical discussions, important publication reviews, and papers dealing with applied aspects of the relevant disciplines.
Interested in submitting to this journal? We recommend that you review the About the Journal page for the journal's section policies, as well as the Author Guidelines. Authors need to register with the journal prior to submitting or, if already registered, can simply log in and begin the five-step process.
In order to create/register an account for submitting a paper, first time authors are to contact the Computer Support at mile@ni.ac.rs stating your first name, last name, affiliation with the link, and your email. We will then send you back an email with your login parameters. Once you receive your parameters from us you will then be able to log in and begin article submission.
The journal Teme is indexed in: Index Copernicus, CEEOL, EBSCO, SCIndex, DOAJ, ERIH PLUS.

Print ISSN: 0353-7919
Online ISSN: 1820-7804
Editor-in-Chief: Suzana Đukić
Co-editor: Jordana Marković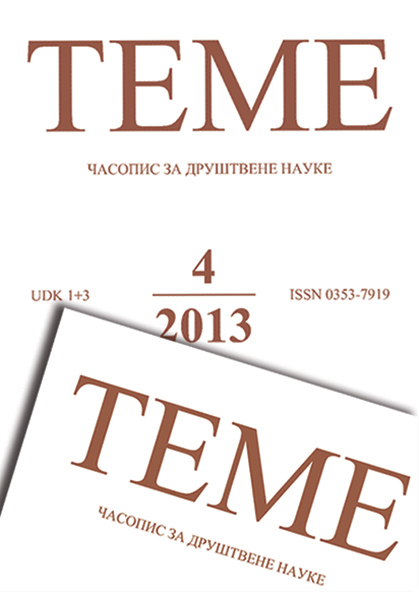 The
ONLINE FIRST
 section of
TEME
 the papers accepted for publication and but not yet assigned to an issue.
Announcements
No announcements have been published.
Vol. XLVII, No 2, 2023
Table of Contents
| | | |
| --- | --- | --- |
| | Ања Митић, Вељко Ђурић, Ивана Петровић | 213-229 |
| | | |
| --- | --- | --- |
| | Александар Ковачевић | 249-265 |
| | | |
| --- | --- | --- |
| | Nenad Tomić, Violeta Todorović, Aleksandra S. Vasić | 267-279 |
| | | |
| --- | --- | --- |
| | Jasmina Ognjanović | 281-297 |
| | | |
| --- | --- | --- |
| | Никола Стакић, Лидија Барјактаровић | 299-316 |
| | | |
| --- | --- | --- |
| | Ahmedin Lekpek, Zenaida Šabotić | 317-336 |
| | | |
| --- | --- | --- |
| | Nebojša Janićijević, Ljiljana Kontić | 337-354 |
| | | |
| --- | --- | --- |
| | Nedeljko Milanović, Marina Matejević | 355-369 |
| | | |
| --- | --- | --- |
| | Marija Trajković, Branislava Popović-Ćitić, Luka Mijatović | 371-384 |
| | | |
| --- | --- | --- |
| | Ivana Arsenić, Nadica Jovanović Simić, Mia Šešum, Bojana Drljan | 385-403 |
| | | |
| --- | --- | --- |
| | Lidija Beko, Dragoslava Mićović | 405-422 |
| | | |
| --- | --- | --- |
| | Srđan Milašinović | 441-444 |